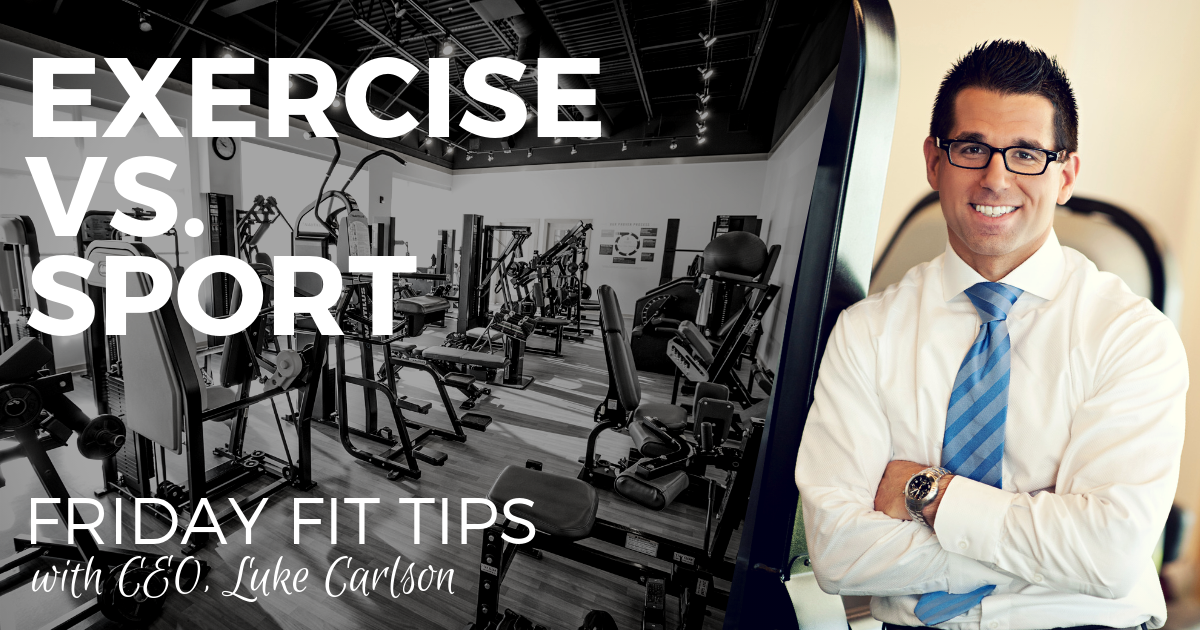 Exercise and sport are not the same thing.
Exercise is designed to improve our physiology (not to degrade it). Exercise is a means to an end.
Sport, on the other hand is not designed to improve our physiology. Sport is an end in itself.
Clearly, many sports may positively impact our physiology; for example, playing basketball can stimulate improvements to our cardiorespiratory fitness. However, this is not the intent of basketball, it is merely a byproduct (and not always the byproduct). The intensity, duration, rest periods, and frequency of the game play would have to be carefully modulated in order to truly define basketball as exercise. Moreover, the risk of injury in basketball is far too high to qualify as exercise. If you get injured while doing an activity, that activity is not exercise. Again, exercise doesn't degrade, it improves our physiology and physical function. Tom Purvis brilliantly captures this message stating, "If exercise is supposed to be good for you, then sports are not exercise. Sports are the reason we have sports medicine. Exercise is supposed to be the medicine!"
Over the last 20 years, more and more people are engaged in sports in the name of exercise; a short list of these sports includes marathon running, triathlons, basketball, Crossfit, dancing, and gymnastics. By all means, engage in sports because you enjoy them as recreation, but don't do them as a substitute for exercise. In fact, continuing to perform safe, productive, resistance exercise is a great way to protect against the risk of injury inherent in so many sports.
The Hippocratic Oath is credited to the ancient Greek physician and philosopher, Hippocrates. Taken by physicians and healthcare professionals, the most well known tenet is translated as "First, do no harm." This is a fantastic starting point when considering an exercise program. I had the fortune of being taught this lesson by a mentor and leader in the field of exercise science and strength and conditioning, Mark Asanovich. Mark was the long time strength and conditioning coach for the Tampa Bay Buccaneers under head coach Tony Dungy and went on to spend a number of seasons as the strength and conditioning coach for the Jacksonville Jaguars (Mark had coaching stints with the Vikings, Bucs, Ravens, and Jaguars). Mark was presenting at a strength and conditioning conference in Ohio in 2002. His presentation was confrontational and not well received by the audience (if I recall, one attendee wanted to fist-fight with him following the presentation). Why? Because Mark questioned the popular practices and trends (Olympic weightlifting, fast speeds of movement, plyometric training) in strength training and called them out as… "Dangerous." His message was simple. Our (the strength and fitness professional) role as an allied health professional is to "first, do no harm." Our first priority in an exercise program should be safety. This really shouldn't be a controversial topic. After all, by definition, exercise should improve physical function (not decrease it). Arthur Jones put it succinctly: "Exercise should help to avoid injury...not cause injury." If it doesn't improve our function and in fact has a negative impact on our health or function, it really isn't exercise (it is probably better classified as sport or physical activity… very different than exercise). Mark was very clear, if an exercise carries with it a potential for acute or chronic injury, it shouldn't be performed. This message resonated with me in 2002. Today, Mark's message is more important (and less accepted) than ever. A review of current exercise practices, trends, classes, and methodologies reveals that the vast majority of what passes as exercise (particular resistance exercise) is in fact, about as dangerous as it gets.
Leave a Reply
Your email address will not be published.